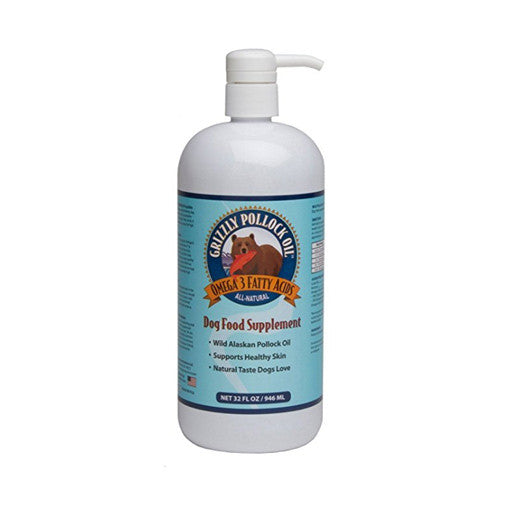 Gaylan's - Grizzly Pollock Oil
PLEASE NOTE:  This special pricing is for current owners of a Gaylan Golden Retriever.   If you do not own a Gaylan dog and order through this page, your order will be cancelled.

 
DHA is one of the supplements that is a must to add to our dogs' daily diet. Pollock oil is an excellent source of DHA, although it's not as well known as salmon oil. We offer our clients Grizzly Pollock Oil as an alternative to salmon oil. Sourced from wild Alaskan pollock this oil is readily availalbe and is a more affordable source of DHA. Grizzly Pollock Oil supplies the DHA for a 70-pound dog with just five pumps of oil each day, nearly half the cost of Grizzly Salmon Oil. Why not save a little and give it a try. Our dogs love the taste and we're sure your dogs will, too.
30 calories per pump
16 oz. bottle = 133 pumps
32 oz bottle = 267 pumps
195 mg DHA, 385 mg EPA
---
---
Related Products